Plan and schedules
Closed
Opening
in
2 H
30 MIN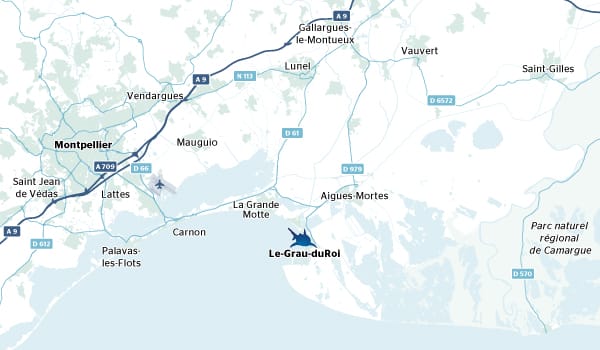 Le Seaquarium
Avenue du Palais de la Mer
30240 LE GRAU DU ROI
Horaires d'ouverture :
Du 1er au 11 juillet
09h30 - 19h30
Du 12 juillet au 31 août
09h30 - 23h30
Septembre, Avril, Mai, Juin
09h30 - 19h30
De octobre à mars
09h30 - 18h30
COVID measures opening Seaquarium May, June:
Monday, Tuesday, Thursday and Friday, the mornings are reserved for schoolchildren.

Ticket officies close one hour before the aquarium closes.
Allow around 2 hours to see all the attractions.
The Seaquarium is open seven days a week all year round (except décember 25th and january 1st AM).
* on the 1st monday of school holidays.
Easy access
Seaquarium is located on the left bank of Le Grau du Roi in Petite Camargue, next to the Mediterranean Sea.
Easy to get to, Seaquarium is 20 min from Nîmes, Montpellier and the A9 motorway exits. There are numerous lifts available on the site, making it easier for the disabled visitors to get around as well as people with pushchairs.
Weather
Sunday

6°

Monday

6°

Tuesday

6°

Wednesday

6°
Prices
Individuels
Adult: € 15
Children (de 5 à 15 ans): € 11
Children (under 5): free
FAMILY 2 adults + 2 children: € 47
(Large families: 10% off the individual entrance fee price)
REDUCTIONS Student, desabled adult: € 13.50
Desabled child: € 9.50
SEASON TICKETS Seaq Pass* Adult: € 30 / Seaq Pass Child: € 20
Seaq Pass Reduction (student, desabled adult): € 25

Groups
GROUPS adults Adults: € 11.50

SCHOOL VISITS Admission fees for entrance only:
All school levels: € 8 per child
For over 18s : € 11.50 per individual less 10%
Free entrance:
For under 6 years olds : 1 free accompanying adult pet 4 children
For 6 to 18 years olds : 1 free accompanying adult pet 8 children
For over 18s : 1 free accompanying adult